Jennifer Spencer – Vice President of Public Relations at Influence Tree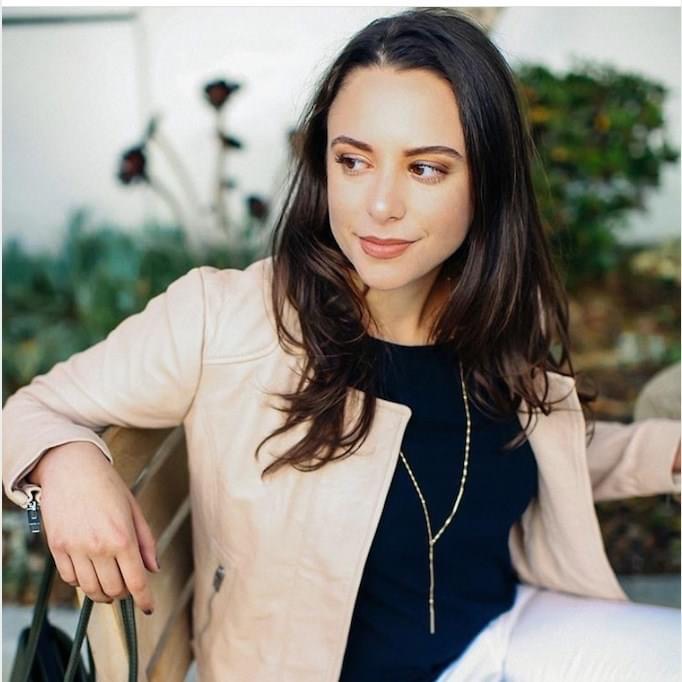 Jennifer Spencer is a former Division 1 runner and the publicist at Influence Tree. She lives in Maryland where she mothers two dogs, a lab and a hound mix, named Lulu and Oakley.
Hi my name is Jennifer Spencer and I grew up Rockville, Maryland, a nice suburb in the Washington D.C area. My dad immigrated to the United States from Romania when he was 30, then met my mom in D.C. and got married.
From an early age, the values of hard work were instilled in me because I saw my parents traveling all of the time for their jobs. My dad worked as a journalist for Radio For Europe, so he was broadcasting to Romania, and he had another job with Voice of America as a journalist. My mom worked in international relations so she was always on a plane to another country. Since both of my parents spent time outside of the city for work, I had quite a few great babysitters as well.
I grew up in a Jewish household, went to a Jewish preschool and then a public school. In kindergarten, I wasn't learning the alphabet and couldn't figure out why. My parents took me to an ENT doctor as the result of many ear infections that weren't getting better with antibiotics. I ended up getting an ear tube surgery and all of this other stuff, I was quite shy when it came to getting to know other people.
When I was eight years old, I encountered another tragedy. My maternal grandfather passed away in an accident. That was an extremely tough experience in my life where my family all mourned together and it showed me the true values that come from being within a loving family.
Dealing With Two Instances Throughout Elementary That Were So Close To Home, They Left Me Shaken Up
Most people have quite a pleasant experience in elementary school. For the most part this is how I remember my own experience.  But for me, it was also quite fearful. When I was in the fourth grade, 9/11 happened and in the fifth grade, we were dealing with the D.C. sniper. And both of those incidents traumatized me. I remember when my teachers were talking about what happened. All I could think about was how my parents work in D.C. and about their livelihoods.
Being in D.C. at these times was like absolute madness. Not only was I hypervigilant at the time, but people in the area were scared to even go to the gas station to get gas because they were in fear of getting shot. Normal activities were shut down and the suburbs went on lockdown for what felt like a year. It was as if time stopped moving and we couldn't do anything. Things went on like this for so long until one time I went to a soccer practice. Everyone just said that we couldn't live in fear like this forever, so we slowly moved back to our daily routines.
Finding a Love and Passion for Sports and Using It As a Means to Make Friends
Aside from the difficulties of trying to get to know people and dealing with a few national tragedies, I was a big tomboy growing up. I played every sport you can imagine, from soccer to softball to basketball and everything in between. My parents made my brother and I play one sport a season, which wasn't really a problem for me because I loved it. Since we were both competitive, I always wanted to play sports with him and his friends. People always thought we were twins because we were so close in age as well.
Sports is what helped me connect with so many people and make friends, especially due to how shy I was. I didn't really have too many female friends growing up, but it was like I had a million guy friends because of my natural inclination to want to play sports. I was really quiet and shy, so it made sense that my friendships with females were limited.
There was a tough period in middle school and high school where three people we knew passed away from brain tumors. One was my brother's soccer coach, another the cantor at my synagogue and one was my brother's childhood friend. That really shook me up a lot, to see people that we were close with and cared deeply about passing away.
How My Parents Used My Passion for Sports to Keep Me Studying In School
When it came to grades, I didn't really do too well, which is unusual for the shy person in class. You would think that because someone is quiet, that they would excel at their grades, but I always felt dumb in school because many of the topics didn't interest me and I tuned them out. Math and science were two of the worst, but I did fairly better at English and history. My parents tried to get me tutors and other sources of help to get my grades up, but the subjects were so uninteresting to me and my grades remained unspectacular. I ended up graduating high school with a 3.0.
The thing that kept me interested in my studies was the fact that my parents told me that I needed to keep my grades up in order to keep playing team sports. I trudged along, then found a passion for long distance running. I'm the kind of person who goes all into something I like.
Discovering Cross Country and Track Team and Becoming Captain of My Team
In high school, I ran high school cross country and track and it became my life. For the last two years of high school, I became captain and started my first advertising campaigns trying to get people to join the track team. I also began to obsess over beating my times, then when I went to George Mason University for a year, I ran division one there. My fastest mile was 5:20.
Since both of my parents would travel often for their jobs, we grew up basically living in a different country every summer. Traveling helped me get out of my little bubble of being an introvert. It allowed me to meet so many people in a new environment and opened up my mind a lot. We went to so many countries that there came a point in time where I didn't even like to travel anymore because I just wanted to stay home with my friends. But in the past few years, I've been picking that passion back up again.
Discovering My Passion for Journalism and Writing Through My Parents and Their Desire for Me to Document My Early Travels
Since my father was a journalist, I was exposed to journalism and writing at an early age. Even though I'm not a native Romanian speaker, I loved hearing the interviews and what kind of discussions he would have with his interviewees. When I would travel, my parents would have me journal about my experiences. I ended up with all these notebooks full of my experiences all across the world. I remember when I was young, I would pick up the thesaurus and start using all these words that I didn't even know the meaning for. My parents just continued to encourage me to write and they knew I liked it, so even from an early age, I knew that I was going to be a writer of sorts.
After my first year in college, I decided to focus more on the topics of journalism and writing, much like how my parents had directed me towards. I transferred from George Mason to a smaller school that was more focused in Boston. It led me to my first time living away at home and being on my own. I picked up as many side hustles as I could and babysat more children than I can even remember. It led to me having a lot of spending money, but I was never really that great at saving it.
An Injury That Ended My Sports Career and Geared My Pursuit Towards the World of Marketing
I continued to run and dived deep into journalism, until one day when I ended up getting injured on the track. An injury so bad that it made me stop running altogether. It was the weirdest experience of my life because I had dedicated the last 10 years of my life extremely focused on the field, and all of the sudden I had to figure out how to readjust my entire identity and life.
After graduating, I decided to stay in Boston for a while, but no matter how many jobs I applied for, I couldn't get anything. I was living with a family and babysitting for them in the evening, so I was living rent free. The lady I was living with helped me get a few internships in marketing and brand marketing. It was a great experience.
I worked with a shoe company called Keds and did every single little marketing task that they needed, whether it was sending out free shoes to influencers, writing and more. While there, I saw that journalism was kind of dying, so I began to churn my wheels to figure out a way to combine writing and marketing together.
Discovering My Love and Passion for Public Relations (While Everyone Else At My Job Loathed It)
After a while, I decided to move back home to D.C., but I still wasn't that great at getting jobs. I would make it to the final round of interviews, but for some reason, I kept getting passed up on the offers. One company I was an unpaid intern for was a book publishing company. We were called account managers but all we would do is email journalists to pitch the books we wanted to be featured in publications. Everyone at work thought that the work sucked, but I thought it was pretty fun.
I loved connecting with different people and since writing was the main form of communication for me, it gave me the ability to connect with other journalists without having to be extremely extroverted.
I remember thinking, "Wow, if I just put in hard work and reach out to people like this, I could get results." I also enjoyed doing it. I remember my dad told me to take a PR class in college, but I didn't pay attention in the class. But after this experience, I felt this is something I really wanted to do, but just not in an unpaid internship role.
Temporarily Moving to California and Attempting to Foster Two Dogs, Who I Ended Up Adopting
Aside from this internship, I ended up doing admin roles in consulting and working in fields that I would never expect to turn into a full time career, then decided on the whim to start looking for jobs in California.
While the startup craze was going on, I started to gravitate towards being a part of a smaller team. I flew out for an interview at a company in San Francisco, landed the job and all of the sudden I was doing content marketing for a new company. I packed up all my bags and moved into a house in Foster City, California, but since I wasn't that great at saving money, I was still babysitting and finding other ways to make money.
Around this time, I decided that I wanted to foster a few dogs. It was something my mom was quite passionate about because my parents, my mom especially, loved to rescue dogs. It turns out that I wasn't very good at fostering dogs because I just ended up adopting them. And that's how I ended up with Lulu and Oakley, who are still with me to this day.
Making the Decision to Move From Being an Employee to Operating a Company
I learned so much at that company about digital marketing that I decided to start to see if I could freelance on the side. I remember landing my first client; it was only for a few hundred dollars, but I was able to write stuff for him. From that point forth, I became hooked on the fact that I could get my own clients and not rely on a company or a set income.
I began cold emailing a bunch of companies asking them if I could help them for cheap. Eventually, I landed upon an app company and they told me I could quit my job and manage their PR portfolio and work remotely. It was like a dream come true, to be able to work in the field that I gravitated towards in my last unpaid internship, but to get paid for it as well.
I loved the flexibility and freedom of being able to set my own schedule, then as time passed by, I began to build up my own client list. I launched my own PR firm in 2016 and was getting a lot of experience in the field, but in mid 2017, things began to take off, so I brought on a COO who helped me organize everything together. Some of my favorite memories of clients I worked with are in the blockchain community because I got to see so many people at the forefront, figuring out solutions for so many different problems.
Reach Out and Connect With Jennifer Spencer
Now I'm back in Maryland and working at Influence Tree helping our clients get media features on podcasts and media outlets. I've also spent the past few years going to masterminds in places like Nicaragua and Italy. If you'd like to talk more about running or emerging technologies, or how we can work together to get your business featured in major publications and podcasts, feel free to reach out to me at [email protected].